PR
Rege Nephro Announces Joint Research Agreement with CiRA, Kyoto University and Mitsui Chemicals Aiming to develop exosomes as a new modality (therapeutic method)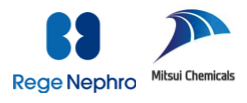 Rege Nephro Co., Ltd. (Headquarters: Sakyo-ku, Kyoto, Representative Director: Toshihiro Ishikiriyama) announces a joint research agreement with Center for iPS Cell Research and Application, Kyoto University (Headquarters: Sakyo-ku, Kyoto, Director: Jun Takahashi, hereinafter "CiRA") and Mitsui Chemicals, Inc. (Headquarters: Minato-ku, Tokyo, President: Osamu Hashimoto) to develop a method for separating exosomes1) from the culture supernatant2) of Nephron progenitor cells3) prepared from human iPS cells, conducting biological evaluation and characterization of isolated exosomes, as well as working on the development of mass production methods for exosomes, aiming at developing exosomes as a new modality of therapeutic methods.
In this joint research, Rege Nephro and CiRA will provide samples of human iPS cell-derived nephron progenitor cell culture supernatants, evaluate the therapeutic effects of isolated exosomes on acute kidney injury, and elucidate the mechanism of action. Mitsui Chemicals will also separate exosomes from cell culture supernatant samples, analyze exosome characteristics, and develop mass production methods.
Exosomes are granular substances with a diameter of 50-150 nanometers (nm) secreted from cells, and are attracting attention as a new inter-cell communication medium containing substances such as nucleic acids (miRNA, mRNA, DNA, etc.) and proteins inside. Numerous clinical trials using exosomes have been registered around the world, and along with the elucidation of their physiological or pathophysiological functions, clinical applied research using these functions, especially the development of diagnostic and therapeutic methods, is rapidly deployed.
Rege Nephro is a venture company established in September 2019 based on the research results of Professor Kenji Osafune of the CiRA Proliferation and Differentiation Mechanism Research Division, who also serves as a director of the company. After discovering the existence of renal progenitor cells for the first time in the world, Professor Osafune has succeeded in establishing a technique for efficiently producing renal progenitor cells from iPS cells. He established a method of induction and differentiation from human iPS cells into two renal progenitor cells; nephron progenitor cells that make glomerulus and tubules, and ureteral buds4) that make collecting ducts. In addition, by combining these renal progenitor cells made from human iPS cells, he succeeded in producing human kidney tissue with three-dimensional structure, the size of which is small though: ca. a few millimeters in which a glomerulus, tubules and collecting ducts are connected.
Rege Nephro is developing cell therapy using nephron progenitor cells derived from human iPS cells. Until now, the culture medium of nephron progenitor cells produced in the process of cell production has been discarded, but in this joint research, it will be possible to effectively reuse the culture medium.
Rege Nephro will promote their business under the mission of improving the quality of life (QOL) of the patients suffering from kidney diseases and contributing to society by concluding a joint research agreement with CiRA and Mitsui Chemicals.
Note 1) Exosomes
Membrane vesicles secreted by almost all cells. It is also secreted from cultured cells. In the body, it is observed in body fluids such as blood and urine. It contains various proteins and lipids and is transported to other cells to cause functional changes.
Note 2) Culture supernatant
The supernatant of the culture medium in which the cells were cultured
Note 3) Nephron progenitor cells
Cells in the developing kidney that produce tissues called nephrons (glomeruli and tubules) that produce urine in the kidneys. There are separate cells that are the source of the collecting ducts, lower urinary system, which is the drainage channel for urine, and interstitial progenitor cells that fill the gaps in the kidney tissue.
Note 4) Ureteral bud
One of the precursor tissues of the kidney during the embryonic stage. It matures in vivo by repeatedly dividing into numerous branches and differentiates into the collecting ducts and the lower urinary tract system, which is the urinary excretory channel in the future.
<Rege Nephro Overview>
Rege Nephro Co., Ltd.
Representative Director: Toshihiro Ishikiriyama
Address: Med-Pharm Collaboration bldg. 409s, Kyoto University, 46-29 YoshidaShimoadachi-cho, Sakyo-ku, Kyoto, 606-8501 JAPAN
Business Description: Research and development, production and sales of renal disease treatment technology
Establishment: September 2019
URL: https://regenephro.co.jp
<CiRA Overview>
Center for iPS Cell Research and Application, Kyoto University
Director: Jun Takahashi
Address: 53 ShogoinKawahara-cho, Sakyo-ku, Kyoto, 606-8507 JAPAN
Department in charge: Osafune Laboratory, Center for iPS Cell Research and Application, Kyoto University
Established: April 2010
URL: https://www.cira.kyoto-u.ac.jp/
<Mitsui Chemicals Overview>
Mitsui Chemicals, Inc.
President & CEO:Osamu Hashimoto
Address: Shiodome City Center, 5-2, Higashi-Shimbashi 1-chome, Minato-ku, Tokyo 105-7122 JAPAN
Business Description: Life & Healthcare Solutions, Mobility Solutions, ICT Solutions, Basic & Green Materials
Established: October 1997
URL: https://jp.mitsuichemicals.com/jp/
<Inquiries regarding this matter>
Katsuhisa Yamaguchi
CFO, a member of Board of Directors
Rege Nephro Co., Ltd.
TEL: +81-75-744-6858
E-mail: info@regenephro.co.jp
Corporate communication Div
Mitsui Chemicals, Inc.
TEL: +81-3-6253-2100
Contact Form: https://form.mitsuichemicals.com/corporate/cc_pr_csr_ja